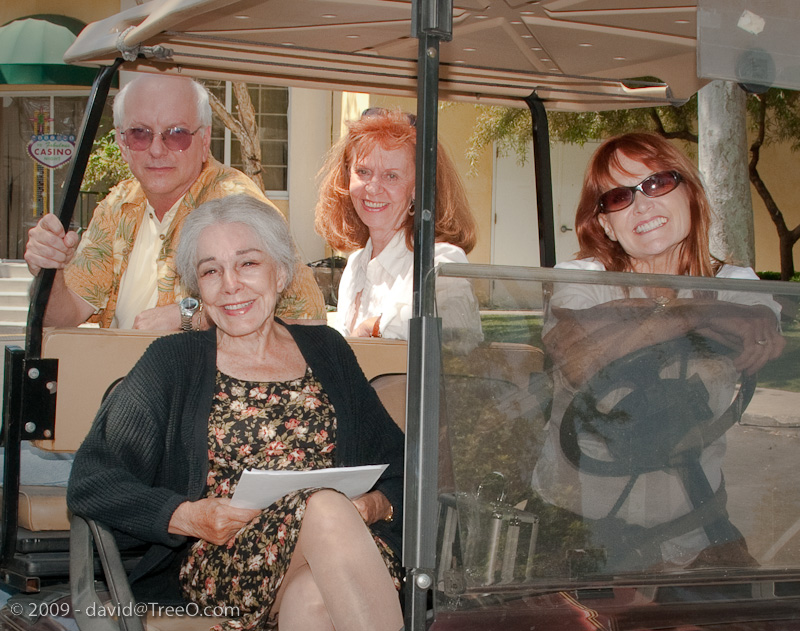 Studio City, California - May 14, 2009
David LeVine (me), Judy Ritchie, Terry Moore and Susan Carol SchwaryOn this day, in 2009, I was on the set of an independent film. My friend, Terry Moore, had a lead in this movie and was scheduled to shoot. I was invited to accompany Terry and Judy, Terry's personal assistant. This day's shooting was at CBS Studio Center, located in Studio City, California. It was on the set of CSI:NY. The writer/director/producer of Ariel, Francoise Gralewski, has many friend's in the CSI:NY crew. Many of them volunteered for her production. We spent the day shooting three scenes in the movie. I was lucky enough to be there and shoot stills.
I met some great people, had fun, and got to see a new camera setup I had heard about for some time, the Red One.
This photograph, not taken by me, as I am in it, was after transport to the first location. Terry, who is actually 81 needed an hour of makeup to make her look 70. Susan Carol Schwary (a three-time Emmy-nominated hairstylist), who did Terry's makeup and wig, passed away last September of breast cancer. That is Susan sitting behind the wheel of the golf cart. I will always remember her as talented and full of life.
If you would like to see the other photographs from this day, click here.
David